Today I'm doing another book tag! This one's about bookish tropes, which is really fun.
Thanks to Shri @ sunandchai for tagging me!
HOPELESSLY DEVOTED
Name Two Characters From Separate Series That You Ship
Honestly, this is such a tough one? I rarely think about cross-series ships, but I am going to propose Inej Ghafa and Lila Bard for no real reason other than they're both badass thieves who really like knives. And they would look, like, really good together, now that I think about it.
DAMSEL IN DISTRESS
Name a Female MC Who Didn't Need a Man to Complete Her
I really liked Zélie from Children of Blood and Bone by Tomi Adeyemi, and she definitely didn't need a man to complete her. Zélie was such a badass and a fighter in her own right and could easily have carried the entire story herself, without either her love interest, Inan, or her brother, Tzain.
LOVE AT FIRST SIGHT
Name Your OTP
I really adore Kaz and Inej from Six of Crows by Leigh Bardugo! They have one of the most well-written slow burn relationships I've seen in YA lit, and I love their character development throughout the books. How both of them realize their feelings for each other; how Kaz learns to start letting his vulnerability show, letting Inej in, how both of them are willing to work to overcome their PTSD because they want each other. I love that Inej knows she can't fix Kaz, and she won't wait for him to get better, but she'll be there if he does. How much both of them value each other, even though it's hard.
MENTAL ILLNESS AS A QUIRK
Name a Book that Represented Mental Illness Well
I can't speak for everyone, but Turtles all the Way Down by John Green was one of the best representations of mental illness I've ever seen for me. I know John Green gets a lot of flack, especially when it comes to his earlier books Looking for Alaska and Paper Towns, but there was something about Turtles that just clicked. It's one of the only YA books that discusses chronic mental illness all the way back to early childhood which is something I really appreciate.
CHOSEN ONE
Name an MC That Did (or Almost Did) Ruin a Series For You
Aelin Galathynius and Rowan Whitethorn. Throne of Glass by Sarah J. Maas was enjoyable enough, especially during Crown of Midnight, but Heir of Fire onward had me so frustrated with Aelin and Rowan, as well as many of the other MCs in Throne of Glass. I hated Manon for the first couple books she was in and grudgingly began liking her in the last couple of books. Heir of Fire Dorian was wonderful, but Dorian's character got completely wrecked in the books afterward. The only character I liked the whole way through was Chaol, and my other favourites are Yrene and Nesryn–making Tower of Dawn my favourite book of the series by far.
FRIENDS TO LOVERS
Name a Duo That Went From Friendship Goals to Relationship Goals
Okay, Percy Jackson and Annabeth Chase are actually the most wonderful friends to lovers couple I've ever read about. They're based on Rick and his wife, so obviously they're adorable. But they're a power couple as friends – they work so well as a team in the Percy Jackson and the Olympians series. Sure, there's bickering, but Percy and Annabeth really complement each other in every way. And during The Heroes of Olympus, they really are the ultimate power couple. The highlight is The House of Hades, where it's just Percy and Annabeth. They draw so much strength and happiness and love from each other.
AMNESIA
Name a Book You Would Forget For One Reason or Another
I'm going to interpret this trope as "books I want to forget," and then there's no real question. I regret reading Harry Potter and the Cursed Child because that was the start of the decline of J.K. Rowling. There is so much wrong with the script, from bad characterization, bad plot that doesn't adhere to the rest of the canon, and not to mention the queerbaiting that comes with Albus and Scorpius. Good fanfiction came out of it, yes, but … that's about it.
BAD BOYS
Name Your Favorite Villain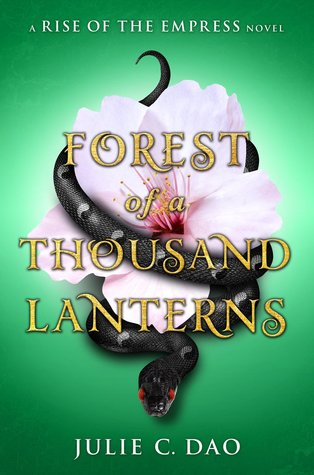 All my favourite villains start out as friends of the protagonist, which makes it kind of hard to name my actual favourite villains without huge spoilers – so I'm going to go with my favourite villain story, which is Forest of a Thousand Lanterns by Julie C. Dao, which is a retelling of Snow White based in Chinese mythology, from the view of the evil queen. It's the story of a girl driven by ambition willing to do whatever it takes to get what she wants, and it is so powerful.
MISSING PARENTS OR ADULTS
Name a Book That Could Have Benefited From a Bit of Parental Guidance or Adult Supervision
I feel like The Lightning Thief musical sums it up fairly well. "Mommy is too busy, and Daddy is too busy / Busy, busy, busy, busy being a god." Basically, every single underage demigod in all of Rick Riordan's series needs a good parent, especially since most of them have mortal parents who are largely absent, abusive, or dead. They're kids. Camp Half-Blood and Camp Jupiter aren't much better because technically they're, um, child soldiers. HELP THEM.
(Special award to Sally Jackson, though.)